Ann Jeffrey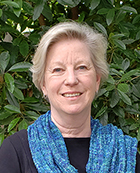 Standing Committees:
Finance and Capital Strategies
Public Engagement & Development
---
Biography
Ann Jeffrey currently serves as Chief of Staff to the Vice Chancellor for Administration at UC Berkeley. In this role, Ann supports the vice chancellor in advancing his initiatives and programs across a broad portfolio of units that spans Facilities Services, Human Resources, Information Systems and Technology, Police, and others. In addition, she currently oversees Administration's Berkeley Regional Services organization, which is completing a transition from a centralized shared services model.
Jeffrey began her career at UC Irvine, and came to UC Berkeley in 1983. After serving as a research administrator and a management services officer in three campus colleges, she shifted to central administration in 1998. Her work has involved supporting a range of projects and challenges including current projects on business process improvement initiatives, strategic planning, and transition to a regional shared services model; as well as earlier work supporting the launch of major multi-university research institutes, task forces on staff compensation, capital projects delivery and housing, and effective response to campus protests. She previously served as coordinator of the campus's Academic Business Officers Group (ABOG - now AMP), on the ABOG Systemwide Steering Committee, on the development team for the Berkeley Financial Management Certificate Program, and on initial planning efforts for research administration professional development.
Jeffrey is excited about the opportunity to serve as a staff advisor. "the University of California has always been central to my life. The mission and values of our university and the deep commitment of our faculty and staff have always inspired me." She looks forward to the opportunity to meet staff at all levels around the system and give voice to their priorities and concerns. "There is so much we can achieve when we work together, and the opportunity to make connections and collaborate with others across the system is tremendous."
Jeffrey is an alumna of UC Santa Cruz and served for many years on the Board of the UCSC-based Friends of the Dickens Project.  She enjoys long hikes, long books, and is currently on a quest to create a really good loaf of artisan bread.