Priya Lakireddy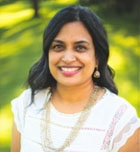 Standing Committees:
Academic & Student Affiars
Public Engagement & Development
Investments
---
Biography
Priya Lakireddy currently serves as the Assistant Regional Director for The Central CA Small Business Development Center (SBDC) Regional Network which is a project under the UC Merced, Office of Research and Economic Development (ORED) Department and is operated under contract in cooperation with the U.S. Small Business Administration. In her role, she is the lead Central California SBDC fiscal and grant/cooperative agreement monitor with the primary responsibility to ensure budget control, as well as grant, and contract compliance.  She also oversees the operations of the UC Merced SBDC service center which provides SBDC services directly to entrepreneurs and small businesses in Merced and Mariposa counties.
Since her start in 2014, Priya has been an active member with the UC Merced Staff Assembly. She served as a Co-Chair for Events and Outreach (2016-2017), Co-Chair for Fundraising (2017-2018), Vice President and Junior CUCSA Delegate (2018-2019), President and Senior CUCSA Delegate (2019-2020) and finally as Past President during the 2020-2021 academic year. During her two years with CUCSA, she worked with Fostering a Flexible Work Culture delegation and Succession Planning delegation and advocated for equitable polices for all staff. During her tenure as Vice President, she and the board created a new staff excellence award for Diversity, Equity and Inclusion in 2018 and the first award was given in 2019. As President, she was staff representative on the Search Advisory Committee for UC Merced Chancellor, planned and hosted a system wide CUCSA meeting at UC Merced in March of 2020, collaborated with the Office of EDI and Chancellor's organization to introduce virtual leadership chats as a way for staff to directly hear from and connect with senior leaders on campus during the early months of the pandemic. Last year, she volunteered for The Valuing Black Lives Task Force, Student Support and Policing and Anti-Black Violence subcommittees. Priya is a current member and Co-Chair of the Police Advisory board. 
Priya was the recipient of UC Merced 2020 Staff Excellence Award for Diversity, Equity and Inclusion and also was one of the four recipients for the Kevin McCauley Outstanding Staff Award in March of 2021.  
Priya is looking forward to the opportunity to serve as a next staff advisor. "I am very committed and passionate about creating a healthy and nurturing climate for all staff and believe that deep and meaningful dialogues and opportunities for conversation make our university system great and increase employee engagement."
Priya holds a BS in Management of Information Systems from University of Missouri, St. Louis and MA in Education with an Emphasis in Higher Education Administration and Leadership from Fresno State. Born and raised in Hyderabad, India, Priya is fluent in Telugu, Hindi and English. After moving to the US, she lived in Atlanta, St. Louis, New York and has now been in Merced for 12 years. She enjoys watching movies and listening to music with her three (teen) children and her husband.