Jason Valdry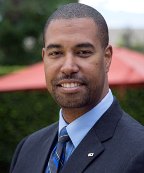 Standing Committees:
Finance and Capital Strategies
Compliance and Audit
---
Biography
Jason Valdry joined UC Irvine in 1998 and is currently the director of technology of the UC Irvine Claire Trevor School of the Arts. In his role Valdry oversees webservers, databases, technical support, the multimedia library and provides research support to faculty and students.
"Good supervisors can make you want to stay. Bad supervisors make you want to leave," Valdry said. "I hope we can make progress with helping all managers be great supervisors. Just because you're a supervisor, the training doesn't stop there. You have to continue your education so you're prepared to deal with new issues."
Over the past 18 years, Valdry has focused on service to his campus community. He served as Chair and Vice Chair of the UC Irvine Staff Assembly and as Junior and Senior Delegate for the Council of University of California Staff Assemblies. He participated in a campus budget committee and a workgroup on strategic planning, to help tackle local challenges. Valdry served on the building advisory committee for the construction of the Contemporary Arts Center, the Chancellor's Advisory Committee on Staff, as liaison for all academic units to the Office of Information Technology (OIT), and the search committee for Chancellor Gillman.
Valdry is a proud UC Irvine alumnus and holds both a B.S. in computer science and an M.B.A. with a focus in operations and strategy. In his spare time, he is an avid cyclist and enjoys riding to and from work.