David Miller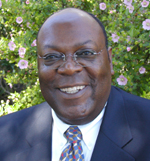 Standing Committees:
Committee on Educational Policy
Committee on Finance
Committee on Grounds and Buildings
---
Biography
Dave Miller was one of two Staff Advisors to The Regents appointed by then President Robert C. Dynes in 2005, during the inaugural year of the initial 18 month pilot program.  To establish the rotation of future appointees in two year terms, Miller was asked to serve an additional year in the role. 
Mr. Miller currently holds the position of Director of Diversity Outreach in the Office of Diversity and Faculty Development at UCLA.  Prior to this position, Miller served as Deputy Assistant Chancellor and as Executive Officer in the Office of the Chancellor.  During his time as Staff Advisor, Miller served in the role of Client Services Manager at UCLA Communications Technology Services.  He came to the University in 1994 from the private sector where he had worked for companies such as AT&T, Bankers Trust, and Motown Record Corp.
During his time as Staff Advisor, Miller was appointed by the UC President and Chair of the Board of Regents to the UC Diversity Study Group, the Commission on the Future, and the UC Advisory Committee to Review Senior Management Group Job Slotting Process.  Prior to becoming Staff Advisor, Miller was elected president of the UCLA Staff Assembly as well as Chair of the systemwide Council of UC Staff Assemblies.  Mr. Miller has been honored with the UCLA Staff Assembly President's Award and the Excellence In Service to the UCLA Campus Community Award and several other notable recognitions for his service to the University and, especially to staff.
Of his career and service to the University, Mr. Miller says, "I have had the rare opportunity to collaborate with leaders in every corner and level of the University, and to visit each of our extraordinary campuses and labs.  The University of California is a treasure to the people of this state, a preeminent institution of academic growth and empowerment, and an enterprise of research and innovation that has granted me an amazing portfolio of professional opportunities.  I'm immensely proud of the work that many of us have done over a number of years in the establishment of this unique role for UC staff and in building a firm platform on which all who follow can succeed.  I continue to be highly impressed by the intellect, level of engagement, political acumen, and deep institutional commitment demonstrated by everyone who has served in the role.  Each has brought to the Regents table a strong collaborative voice that informs and improves the deliberative process.  And In their own way, each continues to raise the bar."