Juliann Martinez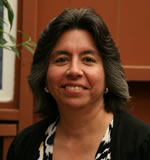 Standing Committees:
Committee on Educational Policy
Committee on Finance
Committee on Long Range Planning
Committee on Health Services
Committee on Investments
---
Biography
Juliann Martinez currently serves as Employee Relations Specialist in Systemwide Employee Relations at UC Office of the President.
Prior to joining the Office of the President, Juliann spent most of her career at UC Berkeley. Her last position was as the Director of Gift Management where she served as the chief gift policy advisor for the Berkeley campus and managed the areas of gift and fund administration as well as institutional reporting for charitable giving. Prior to this role, she served as Director of Development Research and oversaw all aspects of prospect research and records management operations. Juliann was also a member of the Berkeley Staff Assembly and an instructor in Berkeley's Financial Management Certificate Program for staff. Ms. Martinez has spoken at regional conferences for CASE and NSFRE, consulted with numerous San Francisco Bay Area nonprofit organizations and other higher education institutions, and led workshops on gift management, identifying prospects, and establishing a research library. Besides her higher education experience, Juliann has supported K-12 public education serving as a parent representative on the K-8 Evaluation Committee for the West Contra Costa Unified School District. Ms. Martinez also has a background in tax and is enrolled to practice before the IRS. Juliann graduated from UC Berkeley in 1987.
"The challenges that face the University of California require unique and creative responses. Throughout its long history, staff, faculty, alumni, and students have responded to challenges with innovative and creative ideas, and by building strong relationships. As a Staff Advisor, I would serve as a conduit to share the creative thinking and energy of staff from across the University of California with the Senior Leadership and The Regents. In addition to offering staff input, I would look for ways to explain Regental policy decisions to the campus staff so we all have a clear and shared understanding of the future direction of the University of California."