Bill Johansen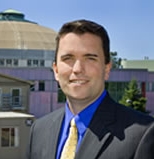 Standing Committees:
Committee on Educational Policy
Committee on Finance
Committee on Long Range Planning
---
Biography
Bill Johansen is currently Special Assistant to the Deputy Laboratory Director at Lawrence Berkeley National Laboratory.
A proud second generation UC employee, Bill first started working at LBNL in 1987 as a student assistant in the Technical Information Department when he was a junior in high school. He continued to work in various positions while attending UC Berkeley where he received a BA in Political Science in 1991. In 1993, he left the Laboratory to work in Washington, DC first on Capitol Hill and later as Deputy Director for the Council of State Administrators of Vocational Rehabilitation. When he returned to California in 1996, he returned to LBNL initially supporting the Life Sciences Division Director before taking on a series of new roles including Manager of the Biosciences Proposal Development Center, Senior Business Manager, and Division Deputy for Operations of the Life Sciences Division. He was named Special Assistant to the Deputy Laboratory Director in 2012.
Bill served from 2004-2006 as LBNL's delegate to the Council of UC Staff Assemblies (CUCSA). He also served as the Chair of CUCSA's Policy and Procedures Committee from 2005-2006. In 2006, he was unanimously elected to serve on CUCSA's executive board, one year as Chair-Elect followed by a year as Chair. During his tenure in CUCSA's leadership, the Council focused its efforts on vital issues to the University including examining staff diversity as well as looking at succession planning through leadership training. In 2007, Bill served as the inaugural CUCSA representative to the UC Staff Diversity Council.
In 2007, Bill was appointed by then-UC President Bob Dynes to serve as 2007-2009 Staff Advisor to the Regents. During his time as Staff Advisor, the scope and role of the Staff Advisor continued to grow including by expanding its presence on additional permanent and ad hoc Regental Committees such as Long Range Planning.
Bill continues to be very proud of the opportunities he had to provide a voice for staff to the entire University community during his time with CUCSA and also as Staff Advisor to the Regents.