Lynda Brewer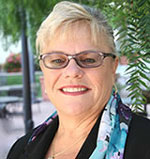 Standing Committees:
Committee on Educational Policy
Committee on Finance
Committee on Long Range Planning
---
Biography
Lynda Brewer was the first successful candidate in a open search for a Staff Advisor in 2006, and was selected following a lengthy process culminating in an interview with and appointment by President Dynes. Her appointment was confirmed by then UC Regents' Chairman, Gerald Parsky. Lynda was appointed for a two-year term, serving through June of 2008.
Lynda retired as the Assistant Director of Capital Planning from the Irvine campus in September 2009.
"The Staff Advisors provide visible role models for staff engagement. It is important to be an active member of one's community and to participate in making it a better place, and I strongly encourage staff to become more involved in University decision-making. I value the opportunity to contribute my staff experience to the Regental process, and to put a face and a voice to a talented workforce who are dedicated to the continued success of the University of California. One of my goals as a Staff Advisor is to help to build relationships based on mutual respect, so that University staff and members of The Board gain a higher level of understanding, respect, and interaction."