Donna Coyne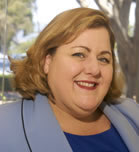 Standing Committees:
Committee on Compliance and Audit
Committee on Educational Policy
Committee on Finance
Committee on Grounds and Buildings
Committee on Health Services
Committee on Investments
Committee on Long Range Planning
---
Biography
Donna Coyne joined UC Santa Barbara in 1997 as an admission counselor and has served as comprehensive review coordinator, and business officer prior to her current position. As associate director of admissions, Coyne oversees several units that support the evaluation and selection of undergraduate applicants, as well as services to current undergraduates.
"I will strive to represent well the concerns, views and hopes of my colleagues, and work to find the compromises that will help to move us forward," Coyne said. Coyne says she has a personal interest in professional development and sees it as a retention issue. "Our young hires have very different expectations for their careers than those who have been here for 20 and 30 years," Coyne said. "They expect to have three or four careers, so we have to help them see how they can build a career within UC or they will move on."
Coyne brings extensive experience working with staff organizations and systemwide and university committees to the position. She formerly served as chair of the Chancellor's Staff Advisory Council and as a member of the UC Santa Barbara Staff Assembly Executive Board.
Donna holds a B.A. in history, M.A. in educational leadership and organizations and Ph.D. in education, all from UC Santa Barbara. She was born in Natick, Mass. and grew up in Santa Barbara. She and her brother Michael, who are lifelong Boston Red Sox fans, are attempting to see a Red Sox game in a different major league ballpark annually with a goal of visiting every ballpark in the country.