Kathy Barton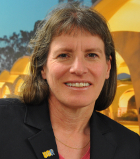 Standing Committees:
Committee on Compliance and Audit
Committee on Educational Policy
Committee on Finance
Committee on Grounds and Buildings
Committee on Health Services
Committee on Investments
Committee on Long Range Planning
---
Biography
Kathy Barton joined UC Riverside in 1985 and currently is chief of staff to the Dean of the UCR School of Medicine, where she was part of the team that launched UC's sixth medical school. Kathy brings vast experience working with staff organizations to her new position. She is a former president of the Riverside Staff Assembly and served for two years as a delegate to the systemwide Council of UC Staff Assemblies (CUCSA).
"These continue to be challenging times for UC, and I hope to use my background in communications to help the Regents and UC tell the story of UC and how important it is for the educational, economic, scientific and cultural future of California," Barton said. "I also want to convey the staffs enthusiasm for and commitment to UC. I see this every day in my work at UC Riverside and with staff around the system."
Throughout her 28-year career at UCR, she has held several communications, grant-writing and government relations positions. Immediately prior to joining the UCR School of Medicine, she was director of technology collaboration in the UCR Office of Governmental & Community Relations. She completed the University of California Business Officer Institute in 2011.
A California native, Barton lives in Loma Linda with her husband, a high school teacher. She holds a B.A. in communications from California State University, Fullerton. She enjoys bicycling in her spare time and continues to remain active in the Greater Riverside Chambers of Commerce.