Penelope Herbert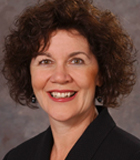 Standing Committees:
Committee on Compliance and Audit
Committee on Educational Policy
Committee on Grounds and Buildings
Committee on Health Services
---
Biography
Herbert joined UC Davis Health System in 2003 and serves as manager of clinical operations where she works to integrate the health system's strategic goals into efficient day-to-day operations at UC Davis Medical Center and its outpatient offices. During her tenure at UC Davis Health System, Herbert took on additional responsibility as interim executive director for the Center for AIDS Research, Education and Services (CARES), the Sacramento area's largest HIV/AIDS treatment clinic, and currently serves as vice president of its board.
Herbert also serves as board treasurer for the Winters Healthcare Foundation, a health center in rural Northern California. Prior to joining UC Davis Health System, Herbert held key supervisory and managerial roles at Boston-area hospitals affiliated with the Harvard Medical System.
"I feel extremely honored to be trusted with this important responsibility, " Herbert said. "I look forward to building on the work done by previous staff advisors, particularly in finding avenues for unrepresented staff to have a voice."
"Penny is a dynamic, innovative manager deeply committed to the success of the University of California and the people of California whom we serve," says Claire Pomeroy, UC Davis Vice Chancellor for Human Health Sciences and Dean of the School of Medicine. "She is an inspiring organizational and team leader and dynamic staff representative who combines outstanding interpersonal skills with sound evidence-based approaches to decision making."