Kevin Smith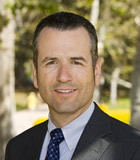 Standing Committees:
Committee on Compliance and Audit
Committee on Educational Policy
Committee on Finance
Committee on Grounds and Buildings
Committee on Health Services
Committee on Investments
Committee on Long Range Planning
Ad Hoc Committee on Campus Climate
---
Biography
Kevin J. Smith joined UCLA in 1999 and has served the UCLA Chancellor's Office since 2005, directing all budget, accounting, payroll, personnel actions, space planning, fee-setting and policy compliance matters for the Office of the Chancellor and other departments across the organization. Prior to joining the Chancellor's Office, Kevin was the Finance Manager for UCLA Communications Technology Services (CTS) where he was responsible for creating the annual budget and rate proposals while managing the CTS monthly billing customer service unit. Kevin has been a keynote speaker, presenting UCLA Budget Models for Evolving Technologies, at regional conferences for ACUTA, the association of information communications technology professionals in higher education.
"The next two years will be quite transformative for UC given the budget cuts being proposed," Smith said. "I want to use my background in budget and finance to serve the university. I also want to make sure decisions are made in the staff's best interest and then to be able to explain those decisions to staff."
Smith, who is a member of Bruin Caucus, UCLA's advocacy organization, says he also hopes to get more UC staff involved in advocacy efforts for the university. "We need more people out there writing letters and attending events in support of UC. There's a dedicated core of staff who actively advocate for UC, but we need to increase those numbers," he said.
Prior to joining UCLA, Kevin spent fourteen years in the private sector, working in key corporate finance analytical, supervisory and consultant roles, primarily with CIGNA Healthcare in Phoenix, AZ where he worked closely with actuaries in setting healthcare insurance premium rates, and with BNR, the research and development division of Nortel, in the Silicon Valley.
Outside of work, Kevin volunteers as the Chief Auditor for the PTA of the local public elementary school that his two children attend. He holds a B.S. in Accounting from Arizona State University and a M.S. in Health Services Administration from the University of Saint Francis.